Hanceville AL- How many times do you hear people say they wished they could fly? Well then, if you have finally decided to satisfy your need for airspeed, look carefully at the school and instructors who will help you achieve that goal.
Career Flight Instructors at Wallace State Aviation are doing what they love and doing it well. Bert Mackentepe, Aviation Department Head, has been in the flight training business since 1980 and amassed some 15,000 hours of fixed-wing dual instruction. As Chief Rotor Wing Instructor, Jimmy Adams began helicopter instructing twelve years ago after working as a professional rotor pilot. Adams, a former graduate of Wallace State Aviation, has well over 5,000 hours rotor wing.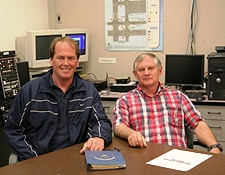 -Jimmy Adams, Chief Helicopter Instructor with Bert Mackentepe, Chief Flight Instructor and Department Head-
Mackentepe explains how this flight instruction program is different from others. Whether fixed wing or helicopter, he credits success to career flight instructors who spend time with students to insure the learning process. A stable teaching staff and small classes give students a one on one experience. "We take a personal interest in our students. We take extra time and make sure they understand the theory and then go out to the labs," says Mackentepe. The fixed wing program established in 1978 and very successful rotor wing training that began in 1992 have trained hundreds of students now working in aviation.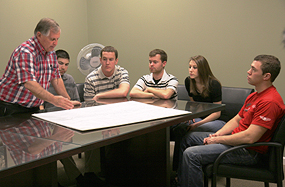 -Click to View Wallace State Aviation Program VIDEO-
A common misconception, explains Mackentepe, is that you have to enroll in the Flight Technology program to take flight training at Wallace. Not true, he says, one can just enroll for a pilot certificate, an add-on rating or ground school only- without the academics. A pilot or student can also take just the Laser Grade required written exam. If an academic path is chosen, courses from Wallace Community College will transfer to either Athens University or Embry-Riddle toward a baccalaureate degree. Enrollment in the academic tract may allow students to apply for financial aide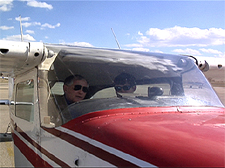 .
Mackentepe says his staff is flexible meeting aviation training needs under either FAA part 61 or part 141 requirements. Part 141 offers the advantage of saving time and cost especially for Veterans with eligible benefits.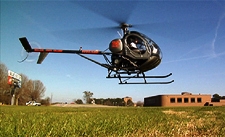 -Click to View Helicopter Student VIDEO-
Possibly the best testimony to the success of the Wallace State Aviation program is by their students. From a wide variety of aviation goals, some students have gone on to complete their degree from Athens or Embry-Riddle. Some aim to be a corporate pilot, an EMS Helicopter pilot, a Commercial Helicopter pilot, an Air Force pilot and Astronaut, and a Marine pilot. But they all share a common impression. Students agree that shared experiences and extra time of their instructors helped further their education. As Mackentepe says, "our greatest asset is word of mouth and referrals from our former students." -Betty Meyer, FMI about Wallace State Aviation or Spring registration by January 15 see: http://www.wallacestate.edu/ or contact Marsha Bradford, Administrative Assistant 256/737-3040 or marsha.bradford@wallacestate.edu .