Historic Moton Field- TUSKEGEE AL- Get ready for the third annual Kids Adventure Day at Moton Field, Tuskegee next Saturday, September 1st, 2012. Jammed packed with fun for everyone including:

Kids Young Eagle Flying,
FAA sponsored Wings Safety Seminar
Static Displays and Fly Overs
Food and MORE!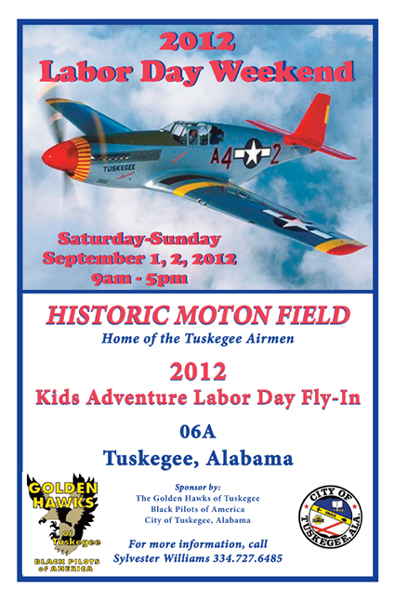 Saturday, 9:00 am, September 1, 2012

Wings Seminar: Guest speakers include The honorable Omar Neal, Mayor of Tuskegee, Bill Winston, owner of Golden Eagle Aviation, John Hicks, President of the Black Pilots of America with Steve Buckner Regional FAASTeam Manager Southwest Region and Michael Wilson FAASTeam Program Manager for Arkansas and Mississippi. The event is sponsored by the Black Pilots of America, Golden Eagle Aviation and the FAA Safety Team.
There are all sorts of activities for the whole family, FAA sponsored safety seminar, Kids aircraft building workshop, flyovers, static displays, plus Young Eagle flights for the kids and did I mention the food. There is a grilling contest by the employees of Golden Eagles Aviation. Home of the original Tuskegee Airman Historical Site.

Tuskegee, AL
Golden Eagle Aviation, Moton Field
1721 General BO Davis JR Drive
Tuskegee, AL 36083

Register for the FAASTeam Seminar for Wings credit online now!
Sponsoring Division: FAASTeam, MICHAEL LEE WILSON, FMI: EVENTS