In a board meeting held today, the NTSB issued Accident Probable Cause and Recommendations in the following statement.

NATIONAL TRANSPORTATION SAFETY BOARD
Public Meeting of August 27, 2012
(Information subject to editing)
Aircraft Accident Brief: Pilot/Race 177, "The Galloping Ghost"
North American P-51D, N79111
Reno, Nevada
September 16, 2011
This is a synopsis from the National Transportation Safety Board's report and does not include the NTSB's rationale for the probable cause and safety recommendations. Safety Board staff is currently making final revisions to the brief from which the attached safety recommendations have been extracted. The final brief and pertinent safety recommendation letters will be distributed to recommendation recipients as soon as possible. The attached information is subject to further review and editing.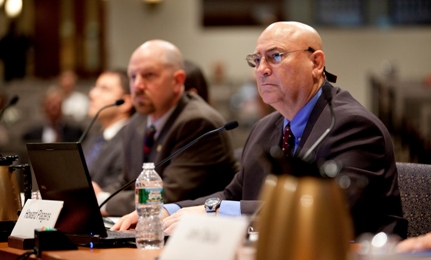 NTSB Investigator In Charge Howard Plagens provides an investigative presentation regarding the crash of a heavy modified P-51D airplane at the 2011 National Championship Air Races in Reno, Nevada. NTSB image
Probable Cause: The National Transportation Safety Board determines that the probable cause of this accident was the reduced stiffness of the elevator trim tab system that allowed aerodynamic flutter to occur at racing speeds. The reduced stiffness was a result of deteriorated locknut inserts that allowed the trim tab attachment screws to become loose and to initiate fatigue cracking in one screw sometime before the accident flight. Aerodynamic flutter of the trim tabs resulted in a failure of the left trim tab link assembly, elevator movement, high flight loads, and a loss of control. Contributing to the accident were the undocumented and untested major modifications to the airplane and the pilot's operation of the airplane in the unique air racing environment without adequate flight testing.
Recommendations
: As a result of this investigation and the NTSB's January 10, 2012, investigative hearing on air race and air show safety, on April 10, 2012, the NTSB issued 10 safety recommendations to the Reno Air Racing Association (RARA), the National Air-racing Group Unlimited Division, and the Federal Aviation Administration (FAA) with the intent of improving the safety of air race operations. FMI: Full Executive Summary-
NTSB