9/22/2008 - Aero Club Puts Love of Aviation into 75th Anniversary Airshow -Video
Over the weekend a landmark Birmingham Aero Club 75th Anniversary Airshow was held at the Bessemer Municipal airport. One of the country's longest continuous running airshows was in effect a homecoming and hugely successful.
From the 1930s, with the founding of the National Air Carnival in Birmingham and the beginnings of the Aero Club, members have sought to promote and preserve aviation. The club airshow project became the vehicle used to provide funds for scholarships administered by the Thurston W. Sumner Flight Education Program, and for support of the Southern Museum of Flight. Wings and Wheels Air Show continues to provide an annual introduction to aviation to thousands of spectators.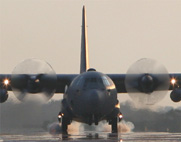 -Maxwell AFB -C130 Lands at Bessemer Airport-
For the past few years, the show was held at the Shelby County Airport. Aviation growth on the ramp and residential encroachment gradually limited the needed space for the airshow to expand. Returning to the larger Bessemer airport met the club needs and set the stage for a homecoming and the historic 75th show.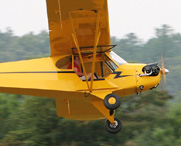 -Greg Koontz Airshows Cub-
An outstanding aviation display including military support and aircraft like a Maxwell AFB C-130, an Alabama Guard Chinook helicopter, antique and civilian aircraft, and international renown aerobatic performances made an outstanding show. Car aficionados had a first class showing. Displays included Birmingham's premiere Barber Motorsports Museum and even a formula race car demonstration. It was a showcase for some of the best in Alabama.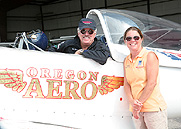 -Steve and Suzanne Asbury-Oliver of Orgeon Aero with their SkyDancer-
Airshow performers Steve and Suzanne Oliver call it their "favorite airshow". They flew 3,000 miles to perform for the club. Aerobatics and skywriting in their SkyDancer, the Olivers' reminisced about flying their 1929 Travel Aire in past Aero Club shows. Their pristine antique biplane now hangs in the Smithsonian.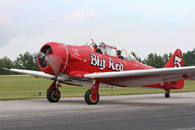 -Reno Air Racer Joey Sanders in Big Red-
Jasper, Alabama, Joey Sanders, fresh from the Reno Air Races had his plane back and ready just in time for the show. Greg Koontz of Ashland, Alabama performed both his Decathlon and Cub routines.
But to the local aviation community it was the first time to see and hear all four Aeroshell Team North American T-6 aircraft fly formation again. Thousands of fans and friends joined to support injured team lead Alan Henley in his recovery. For Alan, it was a homecoming from the Rehab hospital and a visit with his airshow family. For interim team lead, Bryan Regan, it was his first four ship performance. Bryan, a 20 year airshow veteran says, he is happy to fill in and is enjoying flying the T-6.
Aero Club airshow committee chair, Sandy Carruth and Club President, Connie Smith and all the volunteers and members did the 75th show justice. It was the best! A happy, successful, aviation celebration saw smiles all around, including on the faces of thousands of fans. -Betty Meyer, FMI: Aero Club ; More Photos at click to enlarge GALLERY