5/21/2009 - Last Huey Makes Final Landing at Battleship Park
MOBILE, Ala. - History was made recently when the last Bell Huey helicopter operated by the U.S. Navy made its final flight and landed on May 7 at USS Alabama Battleship Memorial Park, reported the Baldwin County Now. This HH-1N had most recently been used as a rescue helicopter stationed at Naval Air Base Fallon, NV, but was removed from service and then loaned to the park for use as a static display by the National Museum of Naval Aviation in Pensacola.

Before a conversion to the current HH-1N configuration, the aircraft had seen high-profile service for two decades while known as a VH-1N. When its most important passenger was aboard during that time, it was called Marine One. Presidents Nixon, Ford and Reagan used the helicopter as regular transportation when it was part of the US Marines HMX-1 presidential unit at Quantico, Va.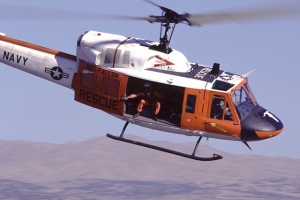 -A similar Huey HH-1N helicopter was recently retired from service by the U.S. Navy and loaned to USS Alabama Battleship Memorial Park for display. Former mission was Marine One with U.S. presidents from Nixon to Reagan, as well as other dignitaries. US Navy Photo-

Restoration to the VH-1N configuration is expected to cost between $12,000 and $15,000, and it will be funded through donations. The interior will receive attention soon, and the chopper will then be moved outside for original paint to be applied. It should be nearly as good as new next spring.

"This is an outstanding and quite historic addition to our aircraft collection at Battleship Memorial Park," Bill Tunnell, Battleship Park executive director, stated. "Many thanks to the great team at the National Museum of Naval Aviation in Pensacola who have made this possible." -Read the entire story by Curt Chapman at Baldwin County Now