2/5/2011 - 70th Anniversary Commemoration of Alabama's First Black Female Pilot – Mildred Carter, Photo Gallery
-TUSKEGEE AL- Updated- Mildred Hemmons Carter flew a Piper Cub into history on February 1, 1941, exactly 70 years ago. In a room filled with palpable affection and adoration, notables and friends gathered to pay tribute to a hometown hero, the first black woman pilot in Alabama. The Tuskegee Human and Civil Rights Multicultural Center hosted the commemoration.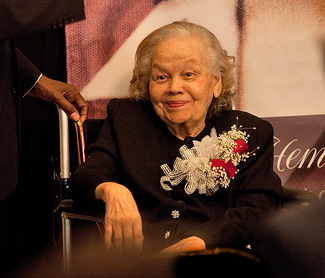 -Mildred Hemmons Carter, February 1, 2011 Commemorated 70 years as the first black women licensed pilot in Alabama, Alabama Aviator photo-
She was a young girl of the WW II era, during the creation of the Tuskegee Experiment, the early beginnings of the Tuskegee Army Airfield Field and the home of the famous Tuskegee Airmen. As a work-study student at Tuskegee University, she graduated with a degree in Business at nineteen years old. Watching the influx of young men coming to join the CPTP (Civilian Pilot Training Program) peaked her desire to fly. It was an exciting time. Her young age stopped her initial application, but on the second try- a year older, she was accepted to the program.
Meanwhile she worked as a clerk as the first civilian hired at Tuskegee Army Air Field, a full military installation. Charles Alfred "Chief" Anderson, best known as the Father of Black Aviation, became her flight instructor. Mildred Hemmons was among the first women to earn a pilot's license from Tuskegee Institute's civilian air training school. A school legend with the success of the Tuskegee Airmen in World War II, this demure lady was a member of the first graduating class.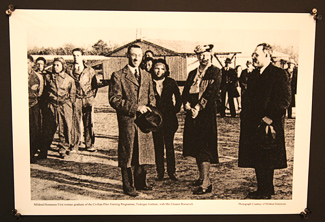 -Mildred Hemmons, first woman graduate of the Civilian Pilot Training Program, Tuskegee Institute with First Lady Mrs. Eleanor Roosevelt. Hemmons is the first black women licensed pilot in Alabama and possibly the South. -Photo display, courtesy of Mildred Carter-
Her admission to the Advance Training program was not possible. Female pilots were prohibited from flying in combat. But after becoming a licensed pilot in 1941, she felt she was well on her way to an aviation career. Mildred sought to join a new group of women pilots formed to ferry aircraft for the military, the WASP.
Continuing to fly the Cub, romance soon bloomed with Herbert Carter, a handsome Tuskegee Airman and Maintenance Officer. Clandestine meetings over Lake Martin were arranged when an airplane needed a flight check, Carter would invite Mildred to meet him. She would fly the Cub along the river until Carter would fly past her- rocking his wings and waving. By now she had logged over 100 hours including her aerial romance.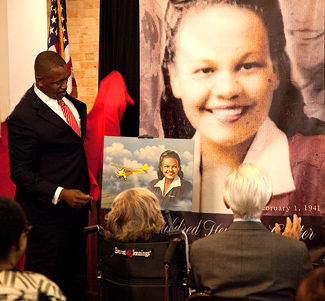 -Tallapoosa County Commissioner T.C. Coley, Director of the multicultural center, read aloud resolutions from U.S. Sens. Richard Shelby, R-Tuscaloosa, and Jeff Sessions, R-Mobile, along with commendations from former Tuskegee Mayor Johnny Ford as well as local, state and federal officials. He presents a painting by Artist Stan Stokes depicting the Piper Cub flown by Mildred Carter. Also presented was a painting by Stokes depicting "Mike," the beloved P40 flown during World War II to Col Carter who was both a Maintenance Officer and Tuskegee Airman combat pilot who flew 77 missions.
Alabama Aviator image-
Mildred Hemmons then received a rejection letter from the WASPS. She had hit the glass ceiling of racial and gender barriers for black female aviators. Her desire for a career in aviation was fifty years ahead of the possible. The letter ended her flying dream before it got off the ground.
Black female pilot Mildred Hemmons was frustrated in her effort to serve in the skies, but, in Tuskegee, she is counted among the famed Airmen according to local Roosevelt Lewis, the Carter's are known as the "First Family".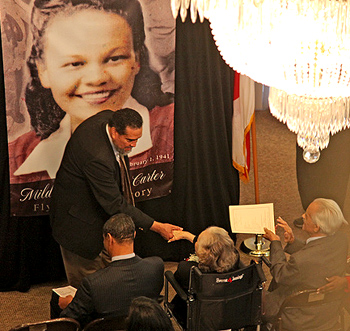 -Tuskegee University President, Dr. Gilbert L. Rochon congratulates Mildred Carter on her achievements, Alabama Aviator image-
She still flew when she could, but it was very expensive, so she did the next best thing. Mildred married a pilot. In August 1942, she married Col. Herbert E. Carter, one of the famed and honored Tuskegee Airmen and they have been co-piloting for 68 years.
Triumphant music played- Mildred Carter and her husband entered the room to one of many standing ovations and paused for a moment in front of a huge mural depicting her at nineteen years old, when she earned her pilot's license 70 years ago. The military guard posted the colors and a sweet vocal sound of the National Anthem hung in the air.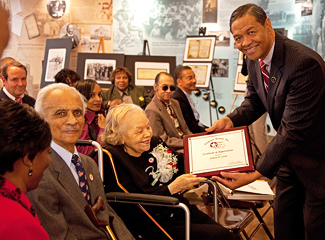 -Roosevelt Lewis, a retired Air Force colonel who helped establish the Tuskegee Airmen Museum presents a Tuskegee Airman plaque to Mildred. Pictured is Tuskegee Airmen Inc. administrative director Maggie Thomas and Col Carter, Alabama Aviator image-
For the next while, her accomplishments as a living legend, inspiration for young aspiring aviators and life as a military officer's wife during combat and deployment would be applauded. She would be showered with gifts of recognition for her role in history by national associations, elected officials, dignitaries and congratulated by the President of Tuskegee University. All the while, seated next to her famous husband, it was her day to shine.
The couple sat quietly during the ceremony, both smiling, her husband seemed please to share her limelight. Col. Carter quipped about knowing his place as her wingman. Mildred Carter who mentioned her voice was not for speeches said, "Thank you, thank you, thank you."
A reception followed the ceremony. The Carters live in Tuskegee and have three children, five grand children and two great- grandsons. B Meyer, For more see the click to enlarge
Photo Gallery
Updated:
Mildred Cater passed away on October 26, 2011- Her health deteriorated during the year. She made it to her 68th wedding anniversary on Aug. 21 and her 90th birthday Sept. 14. According to her son, she said: "I might as well hang around" for her husband's 94th birthday on Sept. 27. She did.