8/24/2011 - Lockheed Martin Selects Courtland Facility for Standard Missile-3 Block IIB Production
-HUNTSVILLE AL -- Lockheed Martin announced today that it has selected its Courtland, Ala., facility for future production of the Standard Missile-3 Block IIB (SM-3 IIB). The production facility decision will be part of the bid that Lockheed Martin intends to submit for the U.S. Missile Defense Agency's upcoming product development phase for the SM-3 IIB that is scheduled to be awarded in 2013.


"Our Courtland facility is a proven provider of assembly, integration and test of ballistic missile targets and missile defense systems," said John W. Holly, vice president, Missile Defense Systems, Lockheed Martin Space Systems Company. "This decision represents Lockheed's continued commitment to the nation's missile defense and the North Alabama community, where we have operated for nearly 50 years."
Focused on stringent quality standards and cost-reduction measures, the innovative facility in Lawrence County, Ala., currently produces highly reliable threat-representative ballistic missile targets.
"Lockheed Martin already understands what more companies should know, Lawrence County is a fantastic place to do business," said U.S. Rep. Robert Aderholt (AL 4th District). "Lawrence County is a growing, vibrant Alabama community with a county government that is business friendly and a potential employee pool that is second to none."
The SM-3 IIB missile will provide early intercept capability against intermediate- and long-range ballistic missile threats. It will be a key element of phase IV of the Phased Adaptive Approach, which will provide enhanced capabilities against threats on a global basis. The new missile will be integrated into the Aegis Weapon System, with the Aegis BMD 5.1 Fire Control and the MK 41 Vertical Launching System, as part of the Aegis Ashore capability.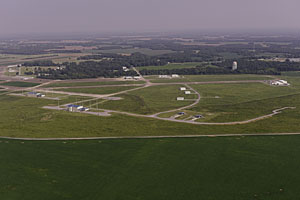 -Lockheed Martin Courtland, Alabama facility, Lockheed image-
"By pairing our extensive interceptor development and weapon system integration expertise with our full suite of production capabilities in Courtland, Lockheed Martin will be able to offer the Missile Defense Agency and the U.S. Navy a reliable and affordable new interceptor," said Doug Graham, vice president of advanced programs, Strategic and Missile Defense Systems, Lockheed Martin Space Systems Company.
The Lockheed Martin Courtland facility is located approximately 50 miles from Huntsville and Redstone Arsenal, Ala. The facility's accomplishments since opening in 1994 have included assembling the Boost Vehicle-Plus for the Missile Defense Agency's Ground-based Midcourse Defense system, producing 15 test vehicles for the Terminal High Altitude Area Defense system and producing case assemblies for Paveway III (BLU-109) munitions for the U.K. Ministry of Defense. Currently, the facility produces target systems, including the extremely accurate intermediate-range ballistic missile target, the LV-2. The Courtland site long has been a national asset, starting in World War II when it was a U.S. Army Air Corps base. BMeyer, FMI: Lockheed Martin