4/20/2012 - Fighters Intercept Unresponsive General Aviation Aircraft
TYNDALL AIR FORCE BASE, FL. - Two Continental U.S. NORAD Region F-15 fighters intercepted a twin engine aircraft over the Gulf of Mexico at approximately 8:30 a.m. CDT, April 19, after the aircraft veered off its flight plan and was not communicating with air traffic controllers.

The fighter aircraft from the 159th Fighter Wing, New Orleans, La., scrambled to inspect the Cessna 421 aircraft. The Cessna 421 had departed Slidell, La., en route to Sarasota, Fla., and began flying erratically over the Gulf of Mexico. Upon intercepting the aircraft, the F-15 pilots reported the pilot was unresponsive. Attempts to gain the pilots attention were unsuccessful.

CONR fighters stayed with the aircraft monitoring it until the Cessna crashed into the gulf approximately180 miles off the coast of Florida at approximately 11:15 a.m.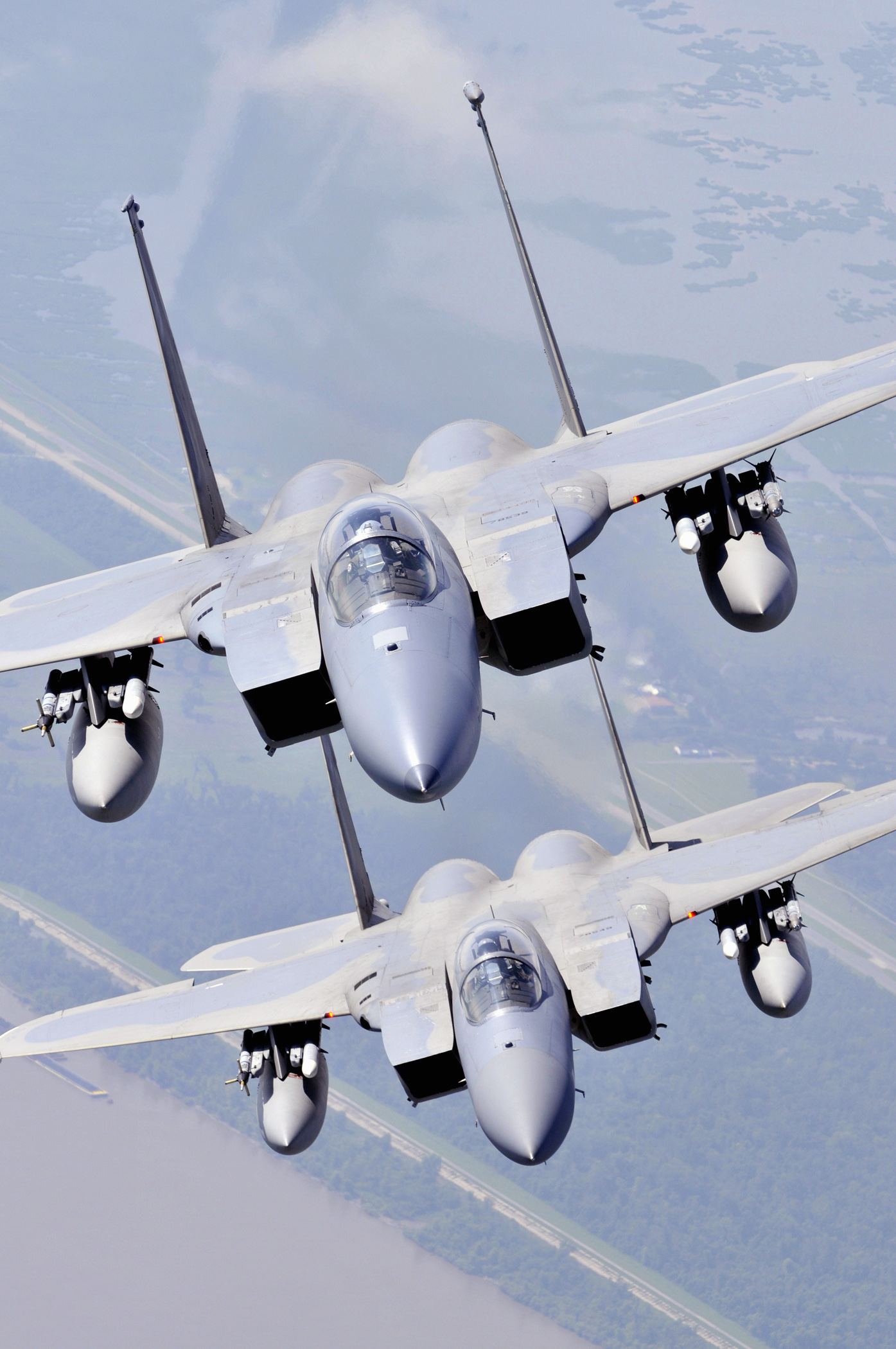 NEW ORLEANS - File Photo- Two F-15 Strike Eagles assigned to the Louisiana Air National Guard 159th Fighter Wing fly over southern Louisiana's wetlands during a photo exercise. The 159th is stationed on Naval Air Station Joint Reserve Base, New Orleans. (U.S. Navy photo by Mass Communication Specialist 2nd Class John P. Curtis/Released)
The Air Force Rescue Coordination Center coordinated recovery operations with the United States Coast Guard. The Coast Guard dispatched a HC-144 plane from Mobile, Ala., a Cutter from Tampa, Fla., and has an MH-60 helicopter from Clearwater, Fla., on standby, to respond to the crash.
CONR fighters stayed on scene until Coast Guard assets arrived and assumed control of the recovery operation.
The intent of military intercepts is to have the identified aircraft re-establish communications with local FAA air traffic controllers and instruct the pilot to follow air traffic controllers' instructions to land safely for follow-on action.
As the Continental United States geographical component of the bi-national command NORAD, CONR provides airspace surveillance and control, and directs air sovereignty activities for the CONUS region. CONR and its assigned Air Force and Army assets throughout the country ensure air safety and security against potential air threats. -
AF Link


News reports indicate the Cessna was piloted by Dr. Peter Hertzak, 65, a physician from suburban New Orleans, that went down Thursday as it was headed from Slidell, La., to Sarasota authorities said Friday. A Coast Guard search for wreckage was suspended on Friday according to reports. -Editor