5/20/2012 - EAA Ford Tri Motor Rides Draws Crowd Video
CALERA AL- No stranger to hosting antique aircraft tours, Shelby County airport-EET is an example of aviation activity of all sorts. This time EAA Chapter 825 requested the rare Ford Tri Motor Tour stop and the excitement is evident with the public and aviators. Folks as far away as southeast and northwest Alabama made the trip to Calera to take a historic flight in the 1929 "time machine". A real bargain at $80 per seat, for the nine-seat aircraft ride brought a steady steam of passengers. For a little extra, you could ride beside Captain Rand in cockpit and watch the old Ford steering wheel controls.


All seats are window seats with magnificent views of the countryside all the way to I-459 and back. Cool, smooth and stable, cruising at 90 mph, it is a great way to sight see and step back into history. The Ford Tri Motor launched the airline industry from mail sacks to passengers and airport terminals of today.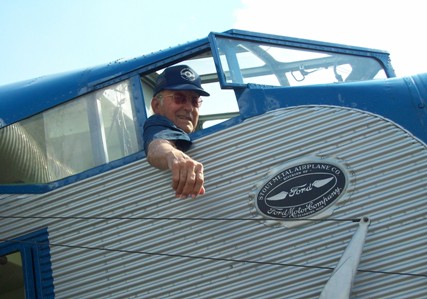 Jack Thompson from Montgomery had his first airplane ride at age 8 in a Ford Tri Motor in Birmingham. On Friday, at Shelby County Airport, he had a great time when he flew right seat saying his "experience has come full circle", image special to Alabama Aviator.
The Tri Motor will depart Shelby County after Sunday, working its way home while on tour back to EAA Pioneer Airport in Oshkosh, Wisconsin in time for AirVenture 2012. If you missed your chance for a ride this weekend, rides are available during AirVenture. As of Sunday afternoon, about 30 full flights have been flown from Selby County airport. -B Meyer, For More see the
GALLERY
.