10/24/2013 - Time Running Out for WASP ROSE PARADE Float
"Against amazing odds, in a conflicted economy, we have come a long way," writes Albert Lewis, President of the WINGTIP-to-WINGTIP Association ROSE PARADE PROJECT, "We have paid for and gained approval of our application to be in the Rose Parade in this most appropriate year, the 125th Anniversary of the Tournament of Roses, this 70th Anniversary of the conclusion of the WASP program, and this 1st Year that women are now recognized as limited, not by gender, but only by individual skill, a point proudly established by the WASP those 70 years ago. We have also obtained an excellent builder, Fiesta Parade Floats, whose creations have won more awards than others, and have a design ready and approved to build. We have also had a great number of supporters who have made significant contributions and pledges to the project and worked at various airshows and gatherings to get us some publicity and donations that have significantly filled our bank account."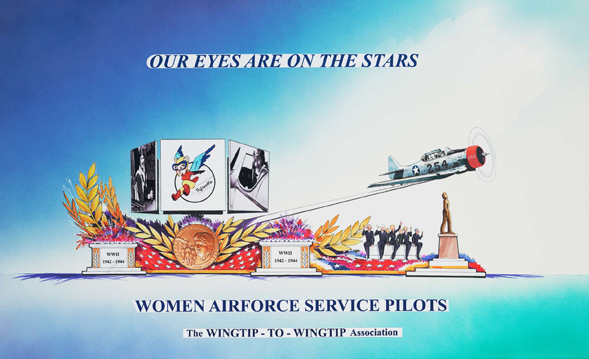 -WASP ROSE PARADE PROJECT Float design-
Due to our lower than expected fundraising, we are now contemplating the grim reality that we may abandon our effort. To be clear, this is the last and only chance that we will ever have to build a Float to Honor the WASP for the Pasadena Rose Parade and its more than 74 million viewers. There is no chance that we could delay this a year --- we know that. And there is no other venue for such publicity that will reach so many people in such an effective way according to Lewis.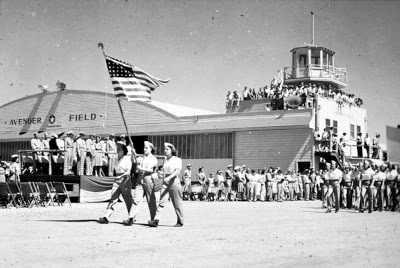 -WASP on parade at Avenger Field, WASP ROSE PARADE Project image-
He indicates at this point, with only two full months to seek further donations, we do not have enough to succeed. The immediate additional amount we need now is not that much in the grand scheme of things, $95K. But unless we can find donors, corporate sponsors or anyone, to pledge that additional amount of money by November 7th, we must fold our tent and slip away, and the story of the WASP will have to be told in a less effective way.
The group is asking to please act on this last appeal to you, their supporters and friends, to contact what companies you know, what individuals you know that may be willing and able to make a substantial, tax-free charitable contribution or pledge, and keep their dream alive. For a big donor, we can put their logo on the side of the float, but that has to take us over the top. The WINGTIP-To-WINGTIP Association ROSE PARADE PROJECT: www.WaspFloat.com is a Texas Non Profit Corporation IRS 501(c)(3) Tax ID: 24-2343555 / Public Charity §170(b)(1)(A)(vi) .